About Massage Therapy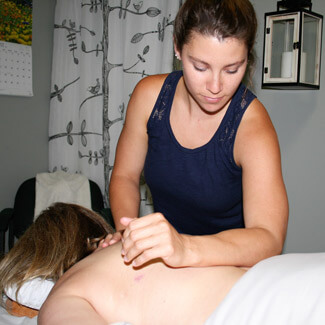 Massage therapy consists primarily of hands-on manipulation of the soft tissues of the body, specifically, the muscles, connective tissue, tendons, ligaments and joints for the purpose of optimizing health.
Massage therapy treatment has a therapeutic effect on the body and optimizes health and well-being by acting on the muscular, nervous and circulatory systems. Physical function can be developed, maintained and improved; and physical dysfunction and pain and the effects of stress can be relieved or prevented through the use of Massage Therapy.
Modern massage techniques can be traced back to the 1700s and the development of Swedish massage, the first systematic method of therapeutic massage based on physiology. Today's Massage Therapists use their knowledge of anatomy and physiology to combine traditional Swedish and modern Massage Therapy techniques with exercise and other therapies to treat their clients.
Here at Cookstown Chiropractic & Wellness Centre we offer a wide variety of treatment options to best server your needs.
(Source: https://www.cmto.com/about-the-profession/about-massage-therapy/)


Your Treatment
Before a treatment, your Massage Therapist will propose a personalized treatment plan based on an initial assessment and health history. The assessment consists of various tests to determine the condition of your muscles and joints. Any personal and health information you provide to your Massage Therapist is completely confidential and will be safeguarded. Your health record cannot be released or transferred without your written consent.
Your Massage Therapist must also obtain your consent to work on any part of your body, regardless of whether you are fully clothed, or fully or partially covered with sheets or blankets. Your privacy will always be respected, and you may withdraw your consent for treatment at any time.
Various specialized movements of the hands, over the skin or clothes, make up the Massage Therapy treatment. The Massage Therapist will work with your level of pain tolerance during the treatment, and the treatment can be stopped at any time should the treatment become uncomfortable.
Massage therapy is not covered by OHIP, but many private insurance companies cover treatment from a Massage Therapist as part of their extended healthcare plans. Please consult your policy.
(Source: https://www.cmto.com/about-the-profession/about-massage-therapy/)
Relaxation
A Relaxation Massage helps to reduce stress and relieve muscle tension for those who are feeling overwhelmed, just looking to relax, or prefer a lighter pressure. Treatment consists of flowing strokes, kneading and gentle manipulations of soft tissues performed at your chosen pressure.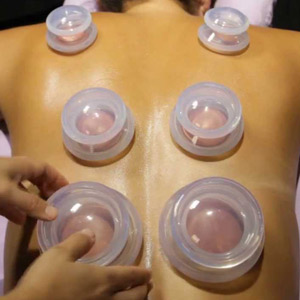 Deep Tissue
Deep tissue therapy is beneficial in releasing chronic muscle tension by using a firm pressure and focusing on the deeper layers of soft tissue. Deep tissue does not need to be painful – it can still be very relaxing while you feel the massage working into the muscle tissue. Be sure to communicate with your therapist the pressure that you are comfortable with.
Cupping
Cupping therapy is an ancient form of alternative medicine in which suction is created on soft tissues using special cups. Cupping can be used to decrease pain, increase circulation, release myofascial tension, and promote relaxation. RMT Carly Hubick uses silicone cups, which do not require the traditional fire cupping, in a variety of techniques as a part of her regular Massage Therapy treatment.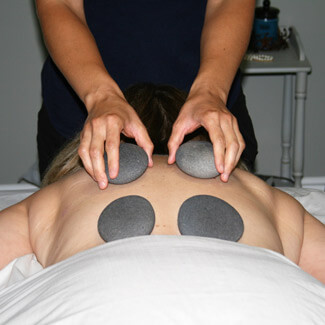 Hot Stone
Stone therapy combines massage with the application of hot or cold stones which are either massaged over the body or placed upon specific areas. The effect results in increased circulation and relaxed muscle tissue. Because significantly less pressure is needed, clients will leave with an overall sedative and relaxed feeling.
The origins of Hot stone therapy date back more than 5,000 years and can be found in many different cultures. In the last 10 years, it has gained popularity as both a physical and spiritual healing treatment.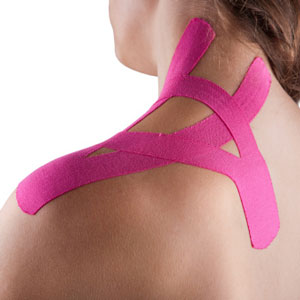 Kinesiology Taping
Kinesiology tape is an elastic sports tape designed to relieve pain while supporting muscles, tendons, and ligaments. When applied, it helps reduce pressure to the tissue and may reduce discomfort or pain. Correct taping also provides support to muscles by improving the muscle's ability to contract, even when it is weak, and helps the muscle to not over-extend or over-contract. Kinesiology tape is light weight, comfortable to wear, and can last for as long as a week when properly applied. Hundreds of common injuries such as lower back pain, knee pain, shoulder pain, carpal tunnel syndrome, sprained ankles, and tennis elbow among many others can be benefitted by the use of this tape.
(Source: https://www.kttape.com/what-is-kt-tape/)


Ready to get started?
Our Registered Massage Therapists are here to help you with all your massage needs. Contact us today!
CONTACT US »

Massage Therapy Cookstown | (705) 458-8288